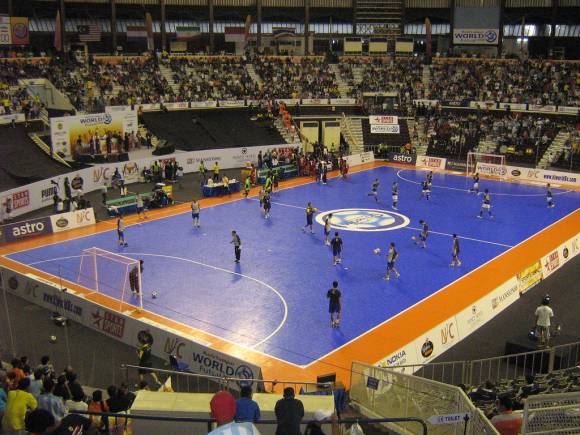 Many people still wonder, What is Futsal?  Well, Futsal is the official FIFA and UEFA version of indoor 5 a side football and indeed the only small sided game recognized internationally by every confederation.
Futsal is football in its purest form. It embodies what Pele referred to as "the beautiful game" Pace, skill, teamwork and high drama characterize this popular indoor game.
Futsal is a sport in its own right which does not compete with football but serves to enrich it.
It is widely viewed as the ideal skill building environment for producing technically excellent football players. There are proven benefits to playing Futsal for the technical skill development of young players, with particular emphasis on the skills of passing, dribbling and close control.
The word "Futsal" comes from the Portuguese phrase "futebol de salao" or the Spanish, "futbol de sala" which basically means indoor football. The main feature of the game is the ball which is a size 4 slightly weighted leather ball with restricted bounce rather than the fluffy, bouncy, green ball traditional to the indoor game in Canada.
Futsal originated in South America in the 1930s and is attributed to the natural skills and playing style associated with Brazilian footballing particular. Futsal is played professionally in many countries world-wide where the game is well attended and regularly commands large audiences on National television channels. It is considered an integral influence on the football development of world giants such as Brazil, Spain and Argentina.
Indeed, some of the world's most celebrated footballers are vocal in their endorsement of the game.
World superstars such as Pele, Messi, Zico, Fernando Torres, Christiano Ronaldo, Juninho, Ronaldo and Ronaldinho cite futsal as a major influence in their skill development.
FIFA, CONCACAF, UEFA among other confederations have acknowledged the importance of Futsal to world football and now host World Cups and continental championships. UEFA in particular has also launched a club champions cup competition called the UEFA Futsal Cup.
In Italy, it is estimated that there are four million registered futsal players compared to one million registered 11 a side players. Spain currently has 18 professional Futsal clubs including some directly connected to famous football clubs such as FC Barcelona and Real Madrid.
Article from: FutsalCanada.ca